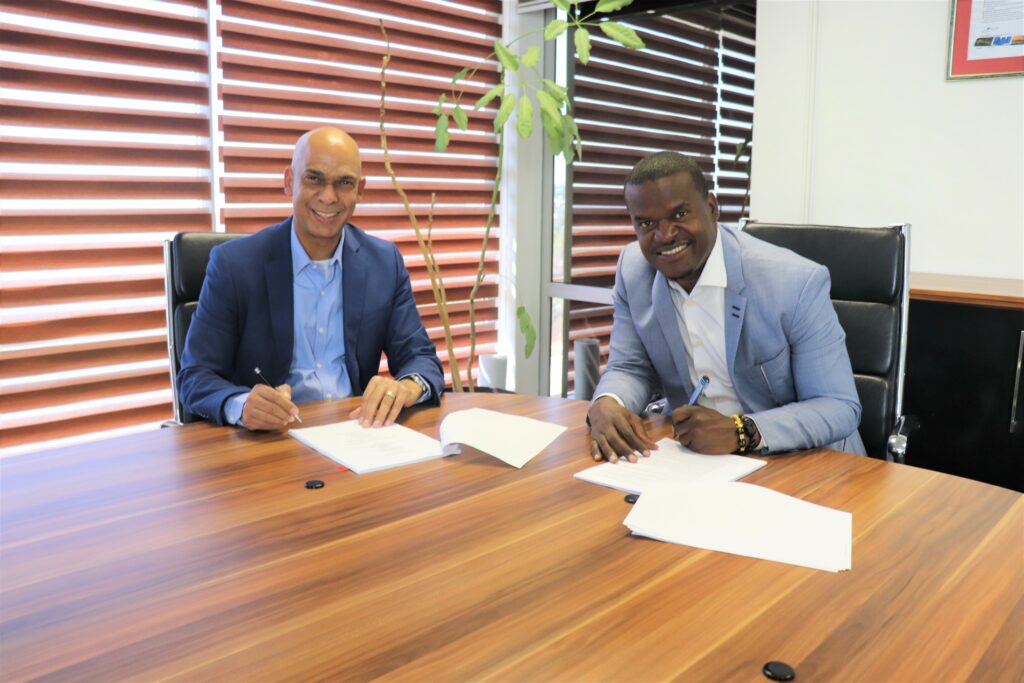 WINDHOEK, 13 September 2021: TransNamib and the National Petroleum Corporation of Namibia (NAMCOR), on Monday, the 6th of September, signed a Rail Transport agreement in order for TransNamib to move more petroleum products by rail. The Rail Transport agreement follows, after the two companies recently signed a Memorandum of Understanding (MoU) to promote a strategic partnership that will strengthen capacities for rail transport and distribution of fuel commodities.
The Rail Transport Agreement, will enable TransNamib to move in excess of 3,600 tonnes of petroleum products per month for NAMCOR for a period of five years. "The signing of the rail transport agreement between the two entities is a milestone for TransNamib – it is the first time for TransNamib to sign a rail transport agreement with a fuel company since the establishment of the company, said the CEO of TransNamib Johny Smith.
This agreement will allow TransNamib to provide a more reliable transport service for the petroleum company and ensure an increase in the volumes of fuel being transported by rail. The partnership between TransNamib and NAMCOR covers the strategic cooperation to develop petroleum facilities that will enhance the road to rail strategy, inclusive, of not only the Namibian market but also the movement of fuel into neighboring countries.
Some of the initial areas where the two SOE's will be partnering on will include cooperation at TransNamib's premises in Otjiwarongo, Walvis Bay and Grootfontein and any other premises of TransNamib as may be agreed by the parties from time to time.
With TransNamib growing its rolling stock fleet within the next 6 months, the company hopes to be able to implement more trains to the various destinations within the country, covering all the different routes and providing more reliability to the fuel sector.
The strategic cooperation will support rail as a safer mode of transport as more petroleum products by rail will have a positive impact on road safety as well, with more fuel being transported by rail on a daily basis.
NAMCOR's new Bulk Storage Facility, loading and offloading facilities completed at Walvis Bay recently, provides a base for increasing the fuel volumes by rail in the coming months.
Media Contact:
Abigail Raubenheimer
Manager: Corporate Communications
Email: Abigail. Raubenheimer@transnamib.com.na
Phone: 081 127 8137